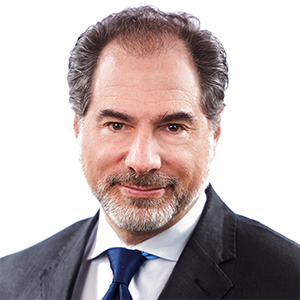 Richard Sarnoff '83
KKR Advisor – Chairman, Media
---
Richard Sarnoff serves as KKR Advisor – Chairman, Media. From 2014 through 2017, he served as managing director and head of the Media and Communications industry group, leading investments in the Media, Telecom, Information Services, Digital Media and Education sectors in the US. From 2011 to 2014,  he was a senior adviser to KKR. He currently serves on the Board of Directors of Chegg, UFC, WebMD, RBMedia and Burning Glass as well as numerous not-for-profit organizations.
Until 2011, Sarnoff was a longstanding senior executive at Bertelsmann AG, Europe's largest media company, serving as EVP and CFO of Bertelsmann's book publishing division, Random House for eight years. In 2006, he established Bertelsmann's digital media arm, BDMI, and as president oversaw the corporation's global investment activities in digital media. He served on the Supervisory Board of Bertelsmann AG, for six years. In 2008, he was named co-chairman of Bertelsmann's US holding company, Bertelsmann Inc.
Sarnoff holds a B.A. from Princeton University in Art and Archaeology and an MBA from Harvard University.