About the Center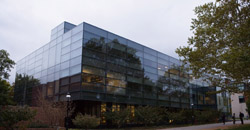 CITP is located in Sherrerd Hall
CITP is an interdisciplinary center at Princeton University. The Center is a nexus of expertise in technology, engineering, public policy, and the social sciences on campus. In keeping with the strong University tradition of service, the Center's research, teaching, and events address digital technologies as they interact with society.
The people at CITP come from across campus — including Computer Science, Economics, Politics, Engineering, Sociology, and the Woodrow Wilson School. Every year, CITP invites visiting fellows from academia and industry. The Center hosts many public events, including conferences, lectures, luncheons, and DC briefings. It produces both leading research and practical demonstrations of issues at the crossroads of technology and policy. CITP serves students on campus in many ways, including an undergraduate certificate that is offered in cooperation with the Keller Center.
CITP is generously supported by the School of Engineering and Applied Science and the Woodrow Wilson School of Public and International Affairs, and is building an endowment as part of the University's current giving campaign.