People
Faculty & Staff

Faculty from throughout the University are affiliated with CITP, and staff offices are in Sherrerd Hall.
biographies and contact information »
Researchers
CITP researchers collaborate with faculty, fellows, and students on a variety of topics, helping to extend our academic research into practical applications and policy proposals.
biographies and contact information »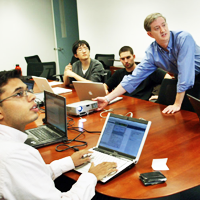 Students

Both graduate and undergraduate students are affiliated with CITP in various ways. They collaborate on research, earn the certificate in Information Technology & Society, and contribute to events.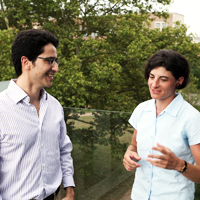 Fellows

Each academic year, CITP hosts a class of distinguished visitors from academia, industry, government, and elsewhere, bringing diverse expertise to Princeton and building bridges to the many domains of information technology policy. Fellows are a critical part of the Center's intellectual life, and participate in many activities throughout the year. The call for applications is issued in November of the preceding academic year.
biographies and contact information »
Affiliates
Technology policy researchers and experts who wish to have a formal affiliation with CITP, but will not be in residence in Princeton, may apply to become a CITP Affiliate. The affiliation typically is a one-year appointment with the possibility of renewal. Applicants should have a strong interest in collaborating with a researcher or faculty member associated with CITP. Please send a current curriculum vitae and a cover letter describing your relevant background, research interests, and potential collaborative projects to citp@princeton.edu. Affiliates will be given access to post to our blog (Freedom to Tinker), will be invited to participate in center events, and could possibly advise CITP-affiliated students.
Applications will be accepted between November and the end of January for affiliations beginning the following academic year (July 1st). Decisions regarding candidates accepted will be made by May 1st.
Affiliates do not have any formal appointment at Princeton University. There will be no Princeton email or permanent work space provided.
General inquiries about CITP should be directed to: citp@princeton.edu