After Indian journalist Gauri Lankesh was murdered in 2017, many suspected a viral YouTube video of Lankesh was a factor in her slaying. Lankesh, an editor and publisher, was outspoken against right-wing Hinduism and some extremists saw that 2012 video in which she gave a speech, as a threat.
Last year, a team from Forbidden Stories, an international network of journalists committed to keeping alive the reporting of journalists attacked or killed by people opposed to their work, wanted to drill deeper into the link between Lankesh's murder and the propagation of that video. They turned to Princeton CITP's Digital Witness Lab to follow the digital trail, and track the video's reach in the days, months and years before Lankesh was gunned down in front of her Bangalore home.
Data Journalist and Engineer Surya Mattu, who leads the Lab at CITP, said his team programmatically searched YouTube metadata in the Internet Archive, popularly known as the "Wayback Machine," and was able to find multiple copies of the video that had been posted to YouTube before Lankesh's murder.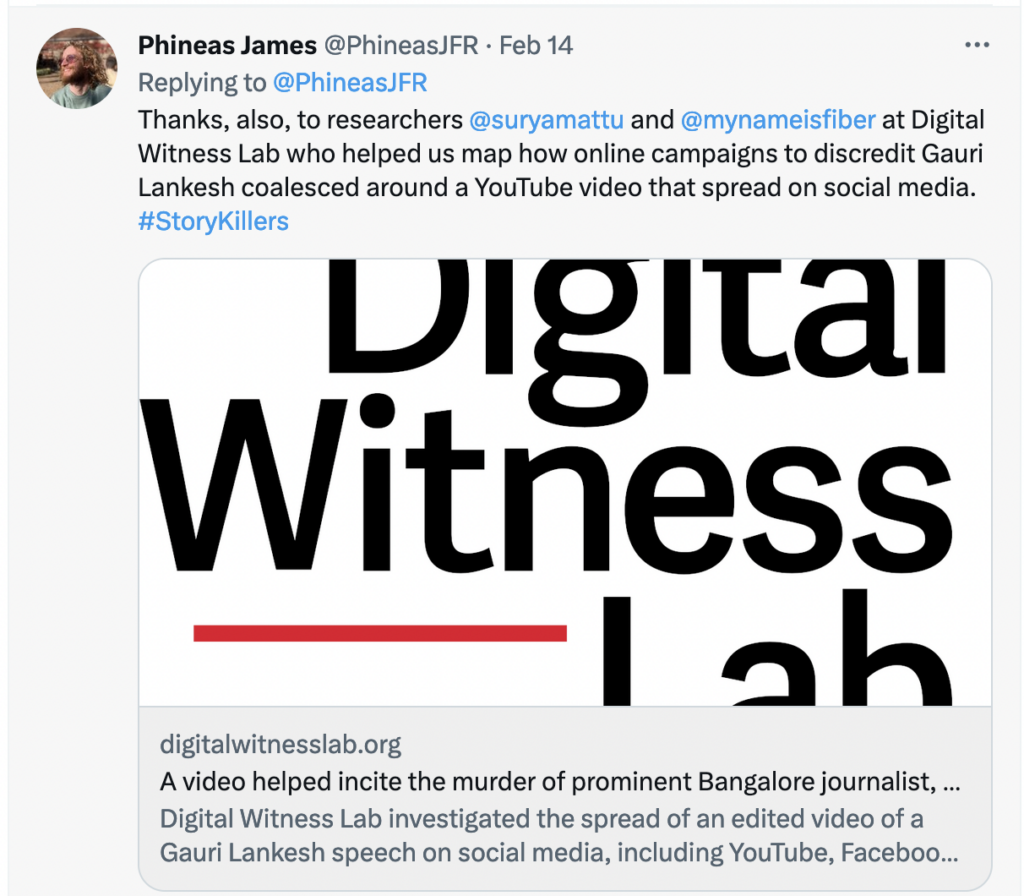 "We measured the cumulative reach of all these copies of the video on popular social media platforms and found that they received more than 130 million interactions on Facebook and more than 250,000 views on YouTube." The Digital Witness Lab also discovered  instances in which the video was shared by right-wing activists on Twitter and on the Facebook page of an extremist party.
Journalist Phineas Rueckert, the lead journalist on the Forbidden Stories report, In the age of false news: A journalist, a murder, and the pursuit of an unfinished investigation in India, thanked Mattu and Micha Gorelick, a data engineer at the Lab, in a tweet, saying they "helped us map how online campaigns to discredit Gauri Lankesh coalesced around a YouTube video that spread on social media. #StoryKillers."
Mattu details the Lab's work in the post, A video helped incite the murder of a prominent Bangalore journalist, we investigated its spread on social media.
CITP launched The Digital Witness Lab in November 2022 to aid news organizations and independent journalists with the digital and technical know-how to probe behind platforms, networks and websites.
-Karen Rouse, CITP Communications manager, 4/6/23