Reading Groups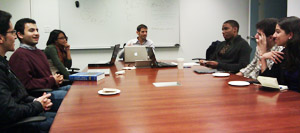 CITP organizes reading groups for Princeton-affiliated students, staff, and faculty, which focus on current topics in information technology policy. Currently, we are running two reading groups: security and privacy, Princeton TechSoc and Cryptocurrency and Blockchain.
The security and privacy reading group focuses on technical papers and topics. Subscribe here to the email list.
Princeton TechSoc is dedicated to exploring the interrelationships between technology and society, with an emphasis on IT policy issues. Subscribe here to the email list.
The Cryptocurrency and Blockchain group will discuss papers from computer science, economics, or other disciplines. Click here more information and to subscribe to the email list.
During the semester, the Princeton TechSoc and security and privacy reading groups will meet on alternating (TBD) at 12:30pm in the CITP conference room, 306 Sherrerd Hall. Please see the link above for the Cryptocurrency and Blockchain group schedule.