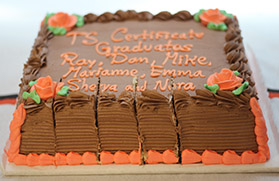 Seven students have earned the 2013 certificate in Technology and Society (Information Technology track). These undergraduates fulfilled the requirements to obtain the certificate by completing six courses in technology and society, and completing a semester of independent work. The students presented their projects at the Annual Symposium on May 6, 2013. Congratulations to the graduates!
R. Auduong, ARC, 2013
Title of project: ALMOST HUMAN: Robots in Architecture and the Narrative of Control

Daniel Feinberg, WWS, 2013
Title of project: International Regimes of the Internet and Aviation: Structure, Preferences, and Technology

Michael Franklin, COS, 2013
Title of project: A Statistical Approach to the Detection of Behavioral Tracking on the Web

Marianne Jullian, COS, 2013
Title of project: Visualizing Expression: A Visual Analysis of Literary Works and Nonliteral Copying in the Context of Copyright Infringement

Emma Lawless, ANT, 2013
Title of project: Trusting Paper, Trusting People: The Role of Documentation for Trustworthy Conditions in Spacecraft Work

Shreya Murthy, POL, 2013
Title of project: A Theory of Privacy

Eleanor (Nora) Taranto, HOS, 2013
Title of project: Too Fast, Too Soon? The Privacy Implications of Electronic-Medical-Record System Adoption

For details on these projects and past ITS student research, visit the ITS Graduates page.
The T&S certificate is in its third year of operations, and continues to grow.
The Program in Technology & Society (T&S) aims to help Princeton students better understand how technology drives social change, how society shapes technology, and how technologies can be used to address grand social challenges. For anyone interested in more information about the ITS certificate program, how to apply, and current courses being offered for Fall 2013, please see our certificate program guidelines.