Directions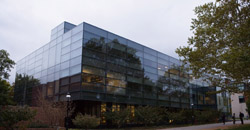 CITP is located on the third floor of Sherrerd Hall.
This glass building constructed in 2008 is located between the Mudd Library and the Wallace Social Science Building on Shapiro Walk. We are not located directly on a street but are near the intersection of Prospect and Olden. We are across the quad from the Computer Science building and the Friend Center, so you may wish to use that address for GPS navigation (35 Olden Street, Princeton, New Jersey, 08544).
You can find our building with the campus map or Google Maps.
There is metered parking along Olden, William, and Prospect streets. The nearest public parking lot is Lot 21 (It is a long walk, but shuttle service is available from that parking lot.)
Contact information:
Center for Information Technology Policy
Princeton University
303 Sherrerd Hall
Princeton, NJ 08544
citp@princeton.edu
(609) 258-9658
(A cab to campus from the Princeton Junction train station costs about $18.)